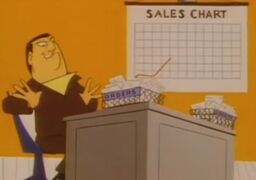 Sonic Boomer is a greedy criminal who flies past windows quickly enough to shatter them in order to raise glass sales for himself.
However, he ruins his own plan up after refusing to sell to Batfink (who needed glass for his cars broken windows), making it so that Batfink left, and Karate, after making a driving error, crashed into his garage, where both Batfink and Karate saw the plane used in his crimes.
Ad blocker interference detected!
Wikia is a free-to-use site that makes money from advertising. We have a modified experience for viewers using ad blockers

Wikia is not accessible if you've made further modifications. Remove the custom ad blocker rule(s) and the page will load as expected.